Shopping Cart
Your Cart is Empty
There was an error with PayPal
Click here to try again
Thank you for your business!
You should be receiving an order confirmation from Paypal shortly.
Exit Shopping Cart
Marylin's Crafty Corner LLC
Ok, that was interesting. With the update to the layout I had to figure out how to add to my blog. Thanks to the online chat option, I was able to get it figured out with the online help staff.
I realized that it has been a long time since I made a blog post. I have been busy doing a lot and sometimes a whole lot of nothing. I had hand surgery in April 2021 and got the all clear from my hand surgeon today. Yay!
Still working and very thankful to have a job. I will be there 25 years in May. Time sure has flown by.
I have three grandkids now, with the oldest turning 7 next month.
Life is keeping me busy and I am thankful for that. I am also blessed to have such a supportive husband.
I am currently working on organizing my stamps and dies. Combining two methods from two of my favorite YouTube video makers @jenofevedesigns and @TimHoltz. I combined jenofevedesigns book method and Tim Holtz's stamp storage and made my own that works for me. Using laminating sheets, card stock, copy paper, ink pad and laminating machine. I have so much more space in my crafty room I am loving it. I will post some pictures soon.
Thank you for visiting and taking the time out of your day to read my blog.
Happy Crafting!
Marylin
| | |
| --- | --- |
| Posted on July 19, 2011 at 9:31 PM | |
Hello Everyone and thank you for stopping by today.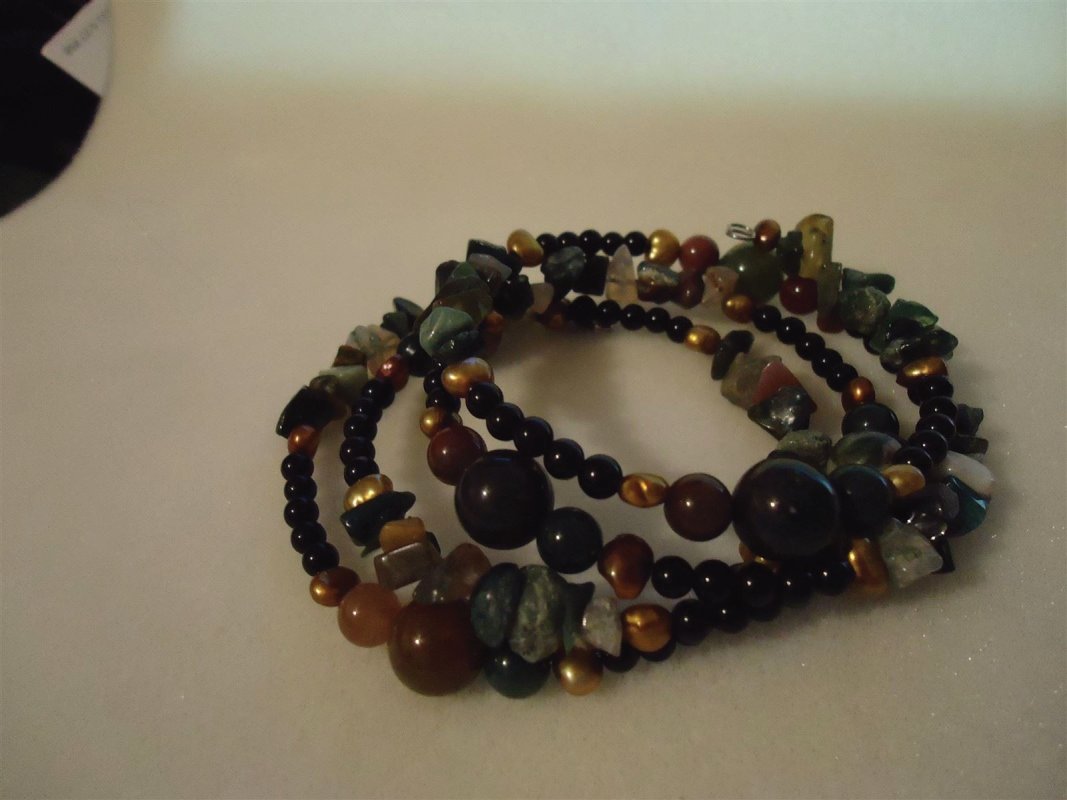 I recently finished a bracelet using memory wire.  It looks pretty cool.  First time I have used it.  It actually was a kit that I found among all my craft kits that I forgot I had. 
This kit I obtained over a year ago through one of those kit of the month clubs.  No, I had to cancel the subscription, because I was getting too far behind.
I have several goals that I would like to accomplish this year, one, of which, is to complete as many project kits that I can that have been in my closet for who knows how long.  Yes, probably as long as this bracelet kit.  ;)
I also have kits that I have started and for some reason or other, they remain unfinished. 
I purchased some unfinished projects from ebay last year.  They were unfinished because the person who had started them passed away.  I don't want to be one of those people who has a lot of unfinished projects that my loved ones will have to worry about getting rid of after I'm gone. 
I had finished another beading project, a set of peacock earrings.  I gave them away to a co-worker who really loves peacocks as much as I do.  She was the only person who noticed them that day.  :)  Once I had given them to her, I realized that I had forgotten to take a picture of them.  I did, however, have enough to make another one, with only having to purchase a few supplies to complete the set.  Once I complete the second pair, I will post them on here as well.
I am also working on a peacock necklace.  I just love the colors with the blues, greens, aqua, etc.
Well, I must go for now.  I have a lot of work to do.  Not only working on my goal for the year but also school work.
Thank you for reading and happy crafting!
Marylin

Categories: daily blog posts
/